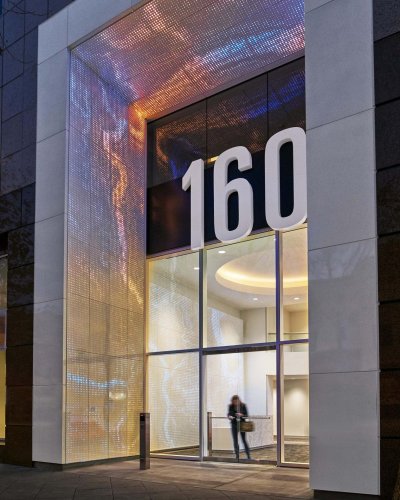 160 w. santa clara st.
san jose, ca
Serving as the building architect, Revel and the design team were instrumental in giving Beacon's property at 160 W. Santa Clara a revitalized, modern look that matches its tenant base in the heart of Silicon Valley. Through custom art installations, re-branded signage, and bold lighting design at the building's exterior entrance, the final design increases the street presence and provides tenants with amenities that make it competitive within the market.
The exterior of the building becomes an extension of the new feature light installation inside the lobby, helping the building make a bold statement, both during the day and at night. The lobby lights emerge from a surface of custom-perforated metal backed by LEDs. In a nod to the local tech industry, the perforations take the form of ones and zeros, just as code does. The numbers were then layered over a map of the waterways in Santa Clara Valley and brought to life through constantly changing gradients and movement.
The new building amenities include a training room, a large pre-function lounge and kitchen, a conference room, gym, yoga studio, and new office space for the Beacon team. Large environmental graphics and updated wayfinding are strategically placed throughout to help bring the space to life. To avoid creating compartmentalized and disconnected spaces within the building the design maximized the overlapping potential of the various programs within the space and connected using clerestory windows for maximum daylight throughout. The training room features large sliding glass doors that open onto a lounge that can effectively double the size of both rooms and create the perfect opportunity for large scale events.
Related Work